Talent Hunter Academy – Unveiling the Cloud
Talent Hunter awarded "The Best IT Recruitment Company in Bulgaria for 2022", has launched an innovative educational initiative – Talent Hunter Academy aimed at improving the professional qualification of its IT recruiters in the field of new software and hardware technologies
By investing in the professional development of its IT recruiters, Talent Hunter is demonstrating its commitment to providing high-quality recruitment services to its clients. The initiative will help Talent Hunter to stay ahead of the competition and ensure that it remains the go-to recruitment company for IT professionals in Bulgaria.
For this educational initiative, Talent Hunter has invited various IT specialists with many years of experience in a business environment as guest speakers. Each of them will present a topic related to their specific professional competencies, share valuable experience, and will answer the specific questions coming from the daily work cases of the recruiters.
Dr. Konstantin Gizdov, a Chief Engineer specializing in Cloud Architecture, Python and C++ Development, and Next-Gen Data Platforms, captivated the audience at the Talent Hunter Academy with his enlightening presentation on "Cloud & Infrastructure". Dr. Gizdov shed light on the pivotal role played by Cloud & Infrastructure professionals and the critical competencies required to drive organizational success.

With a Ph.D. in Experimental Physics from the University of Edinburgh and years of experience at the Large Hadron Collider at CERN, Dr. Gizdov brings a wealth of knowledge and a unique perspective on large and scalable systems. He has been at the forefront of cutting-edge machine learning models, tackling Big Data problems and analyzing proton collisions. Later in his carrier, He has also worked with several prominent German and UK companies, assisting them in realizing their innovative ideas and projects in the cloud. Today, he is driving the development of a novel platform for balancing and scaling the processes of a forefront green energy company.
During his engaging talk, Dr. Gizdov delved into various aspects, starting with server infrastructure and deployment. He discussed the different server architecture choices—whether on-premises, in the cloud, or as virtual machines — and their specific purposes within an organization, advantages, and disadvantages. Dr. Gizdov provided valuable insights into server clusters, data centers, their construction, maintenance, and overall significance in the infrastructure. Furthermore, the infrastructure-as-code paradigm and its recent dominance.
Network infrastructure emerged as another crucial topic covered by Dr. Gizdov. Acknowledging the fundamental role of networks, he emphasized the essential networking knowledge required by System/Cloud administrators and DevOps professionals. In the heavily interconnected and increasingly hybrid operational environment, an expert should be familiar with making use of virtualised networks, and virtual private clouds but also how they correlate and function on top of
physical networks and routers.
"After all, networks are what bring compute clusters, storage, and container platforms together into an application that either spells business success or grinds the orchestra to a halt." – says Dr. Gizdov.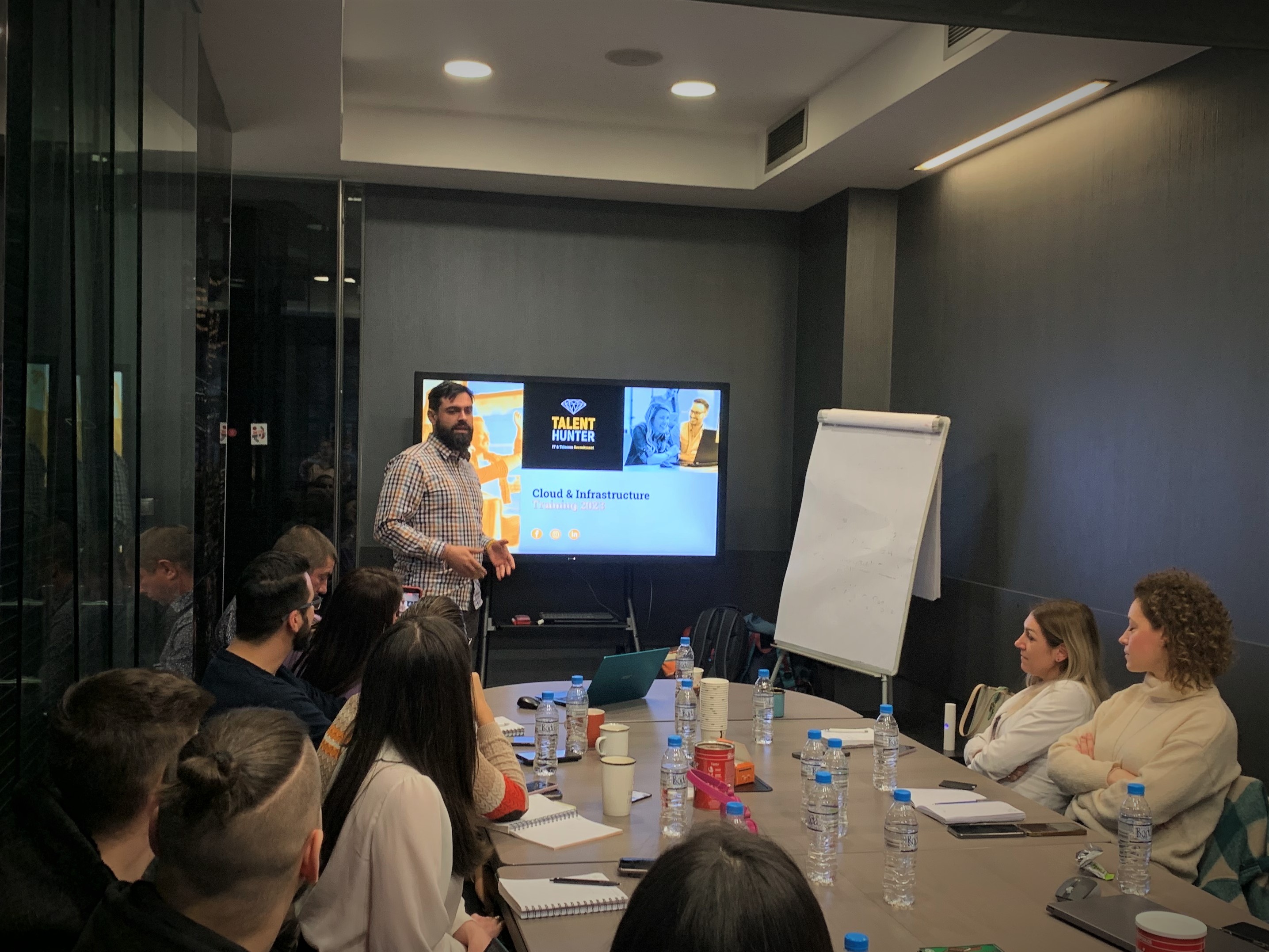 Konstantin also emphasized the significance of automation in building efficient and reliable infrastructure. A key point in the discussion was that being able to automate a system means that both the business side and the engineering team understand it. It means they have a component that can work for the company while other problems are being solved in parallel. Moreover, it means updates and changes arrive quickly and in a consistent manner, reducing the resources
spent on the operation.
Of course, any system needs supervision and support and cloud systems are no exceptions. Modern monitoring systems provide both timely incident alerts but also serve as data collecting mechanisms enabling future planning and business-critical forecasts. Backup and disaster recovery go hand in hand with these and should never be glossed over. The glue keeping it all together is, of course, automated ticketing systems configured to properly identify the types of incidents that warrant an alert.
"A cloud engineer should be somewhat familiar with the best practices in cloud security." – Dr. Gizdov pointed out – "A well-put-together security model always costs many times less than recovering from a critical systems breach. And nowadays, cloud security no longer comes at a premium if you have the right
people to implement it."
After the extensive technology overview, the talk shifted towards the nature of cloud technologies, and their differences and relationship with on-premises
environments. It is important to note that even though it is mostly the case not all business services are suitable for the cloud. Teams with a good understanding of their application can plan and analyze the particular platform and decide whether cloud, on-premises, or a hybrid solution is best-considering cost, performance, and maintenance.
Finally, Dr. Gizdov discussed the Continuous Integration and Continuous Delivery concepts in terms of infrastructure and cloud. Specifically highlighting modern tools such as Ansible and Terraform. These tools serve to automate the creation and maintenance of all types of infrastructure and cloud solutions and have engineers deploy and configure systems in minutes instead of hours using only their fingertips. That translates into a consistent and reliable experience for users as well as quick recovery times when issues do arise.
In conclusion, Dr. Konstantin Gizdov's presentation at the Talent Hunter Academy offered a conversational and comprehensive understanding of infrastructure-
related topics that would benefit our IT recruiters better vet specialists and match the right people with their best team.

Talent Hunter is looking for your tech talent:
Read more about Cloud & Infrastructure
admin
Why Cloud & Infrastructure specialists are highly in demand in 2023? Cloud & Infrastructure specialists are in high demand today because cloud technologies have become an essential component of modern business
admin
Cloud computing has revolutionized the way modern businesses operate Cloud computing has revolutionized the way businesses operate by providing a scalable and cost-effective alternative to traditional on-premise infrastructure. With cloud
Read more about Talent Hunter Academy
SEARCHING FOR IT TALENTS?
Our working process combines best practices from Executive Search, Business Psychology and Development, specifically adapted for the needs of the Bulgarian IT & Telecom market.